Maryland football has returned to the rankings as the AP and USA Today poll put Maryland at #25 in the nation after the Terps 27-24 victory over NC State on Saturday. Maryland however, did not get ranked in the BCS.
Most people in Maryland probably thought the season was going to spiral out of control after the Terps barely beat Delaware and lost a miserable game against Middle Tennessee State. But low and behold, after a big time wins over California and Clemson plus a Wake Forest win to recover from a bad Virginia loss, everything seems back on track, for now. With a 6-2 record, Maryland is bowl eligible.
Because Maryland won't play this week, it is possible they will lose points in the human polling and fall out. But on November 6th, Virginia Tech and Maryland will duel in Blacksburg on national television. If the Terps could win that game, they would gain a lot of respect in the national media. If not, then they fall out of the rankings, possibly for good.
The pieces came together at a good time. Obi Egekeze started nailing field goals, only missing one since the Eastern Michigan game. Though Chris Turner still isn't consistent, he's done enough of late to put the offense in decent position, and when he hasn't, the defense has done the work. Every close game, Delaware, California, Clemson, and NC State, has gone Maryland's way. Three wins over then ranked teams.
The most impressive quarterback in this game was Stephen Morris. He didn't throw for more yards than Danny O'Brien and didn't get the win, but he was very impressive compared to where he was a year ago. Morris threw a pair of interceptions, but one was a Hail Mary at the end of the game. The other, though, was Jacory Harris-esque. He dropped back on 4th and a mile and tried to squeeze in an out route on the near side of the field that was intercepted and returned for a touchdown. Clearly, not a throw he should have attempted, but it's a tough situation. Other than that, though, Morris was solid. He displayed a much livelier arm than Harris ever did or ever will and he was able to fit the ball into tight windows. He took deep shots, but he wasn't reckless with them like Harris is. Morris flashed solid mobility and should be the starter for Miami.
Lamar Miller was the best player on the field. He rushed for 119 yards and a score and added 100 more yards on kick returns. Miller showed his top-end speed when he pulled away from the Maryland defense, but at the same time, he also displayed toughness with how he finished his runs. He's not afraid of anyone or anything and it definitely shows in his running style.
Danny O'Brien wouldn't have had such a productive offensive night if it weren't for horrendous playcalling from Miami's defensive coordinator. The bubble screen was open whenever the Terps wanted it. There's not much skill needed to make that throw. I know that the 'Canes were short on depth because of the suspensions stemming from their tumultuous offseason, but that's really not a reason to not take on Maryland's unproven receivers. However, Miami was perfectly content with giving up bubble screens all day. The scarier part for the U, though, is how soft the defense was. The line got pushed off the ball a little bit, but the linebackers and defensive backs just seemed scared to tackle the ballcarrier. It's a far cry from the days of the old U and I think that the Miami alums in the NFL, including Ed Reed, who made an appearance in College Park last night, would be ashamed of what the current Hurricanes program looks like. The U was a lot of things back in the day, but soft was never one of them. Other than Vaughn Telemaque, there weren't many impressive defensive players yesterday.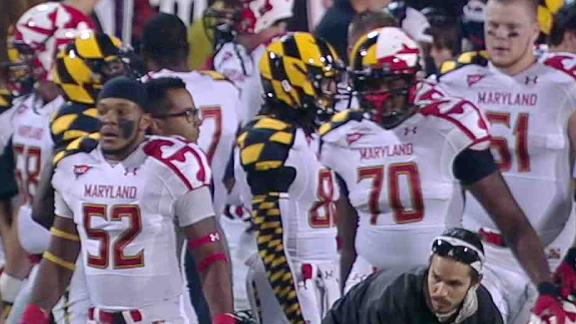 Maryland University held a mock fashion show on Monday night for the media and boosters to unveil half of the 32 possible combinations Terrapins' uniforms.